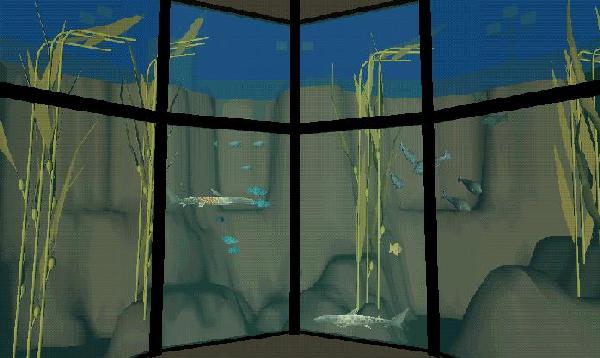 What is the kelp forest exhibit modeling project?
Fifteen graduate students used the Virtual Reality Modeling Language (VRML), physically based modeling and analytic simulation techniques to model the three-dimensional (3D) shape and motion of plants and animals in the kelp forest exhibit at the Monterey Bay Aquarium.

New: draft journal paper, "Teaching 3D Modeling and Simulation: Virtual Kelp Forest Case Study."

Want to learn more? A summary appears in the project abstract. Also be sure to explore the index keywords at the top of this page.

We have demonstrated this project publicly on several occasions.
This project was first demonstrated to about 1000 participants at the Oceans Fair in Monterey, held on Friday June 12 1998 as part of the National Ocean Conference.

The project was demonstrated at the University of California Berkeley as part of a seminar entitled The Educational Uses of VRML: From PreSchool to Higher Education during the evening of Monday October 12 1998.

The project was demonstrated to the Student Oceanography Club of the Monterey Bay Aquarium during the evening of Tuesday October 13 1998.

We showed the project briefly as part of a poster session at the 1999 Monterey Bay National Marine Sanctuary Symposium March 20, 1999.

Visitors experienced the project in our Graphics Lab during NPS Discovery Day November 5, 1999.
If you clicked on the kelp tank image above but didn't start seeing 3D graphics, please click for help.

If you wish to download a copy of this website for yourself, again please see the help page for directions.

Do you have any comments? Please mail us.

This website is available online at http://web.nps.navy.mil/~brutzman/kelp

Contact information: Don Brutzman (brutzman@nps.navy.mil, 831.656.2149) (1 December 99) (official NPS disclaimer)